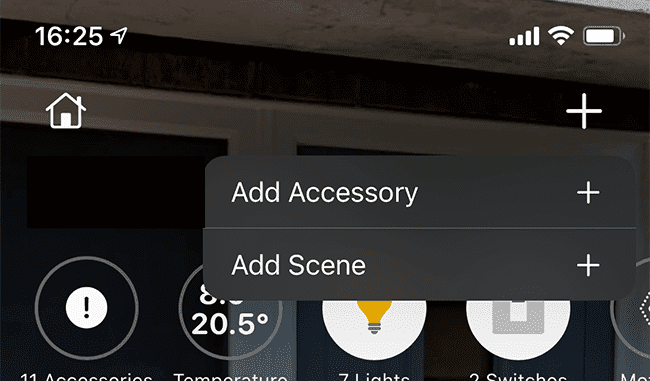 If you've just installed Homebridge, this article will help you with changing some of the default elements, before you start adding plugins.
Logging into Homebridge
To login to Homebridge, you need to visit the below URL, but make sure you replace 'servername' with the name or IP of the server running Homebridge. If you changed the port number during the install, you will have to change that too.
http://servername:8080
Login with the default username and password:
Username: admin
Password: admin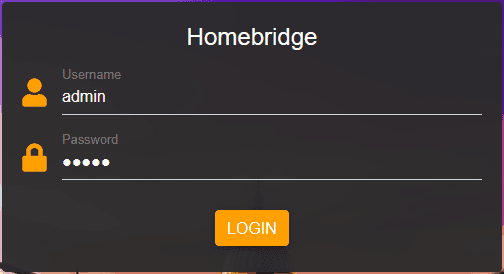 Change the password or create a new user
From a security perspective, it's always good to no use a systems default username and password. So I'd recommend you change the password at the very least, but ideally, create a new user. I will be creating a new user.
Select the menu (three dots stacked on top of each other) at the top right of the screen, and select 'User Accounts'.

Select 'Add user'

Create your new user, and make sure 'Admin User' is tickeked before clicking 'Add new user'.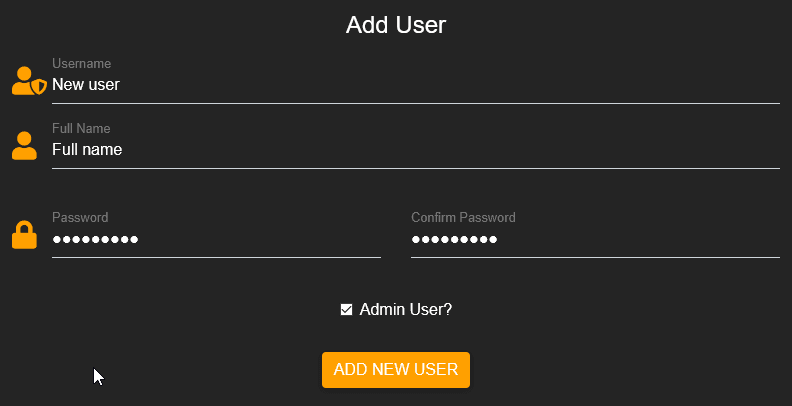 Now logout of Homebridge, and back in with your new username and password.
When logged in, with your new user, go back to the 'User Accounts' section, and select 'Delete' next to the administrator account.

Change the default config
If you click 'Config' on the top left menu, you can change the name of your Homebridge server in the config editor. You don't have to change this, but I recommend changing the name, username (MAC address format) and pin.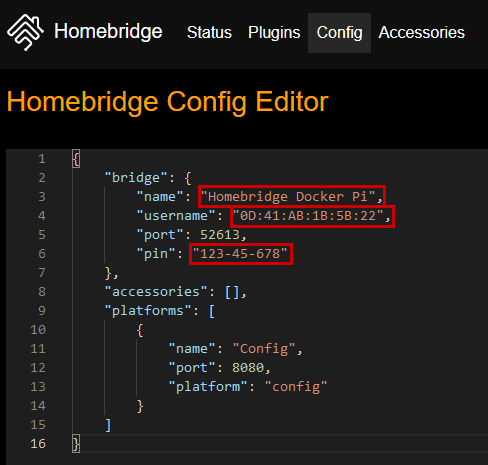 Click 'Save'
Adding Homebridge to your HomeKit setup
To add your new Homebridge setup to your HomeKit setup, open the Home app on your iPhone/iPad.
Tap the + toward the top right of the screen and select 'Add Accessory.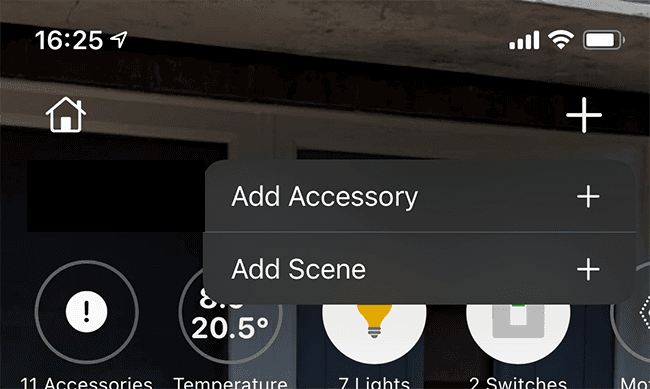 Scan the QR code from your Homebridge status page.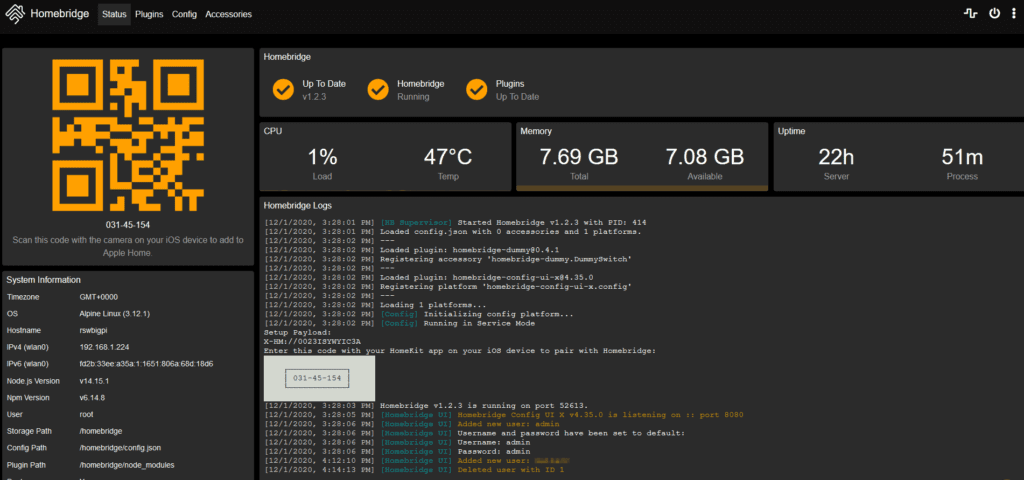 When prompted to add the Bridge to your home, select 'Add to Home'.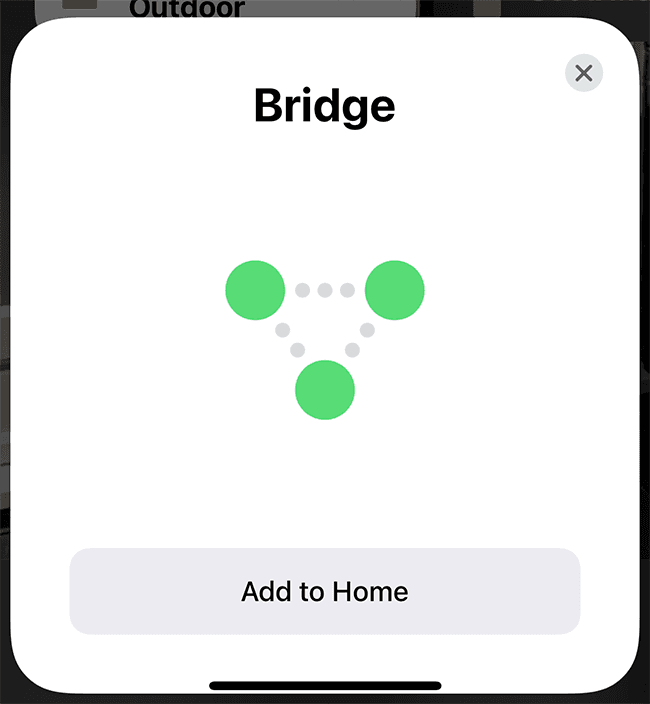 As Homebridge isn't officially approved by Apple, it will show as an uncertified accessory. Select 'Add Anyway'.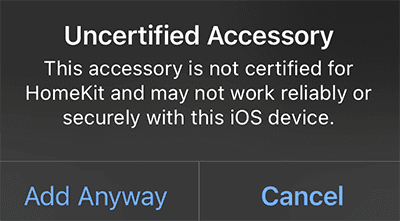 Select the location of your Raspberry Pi / Homebridge server and select 'Continue'.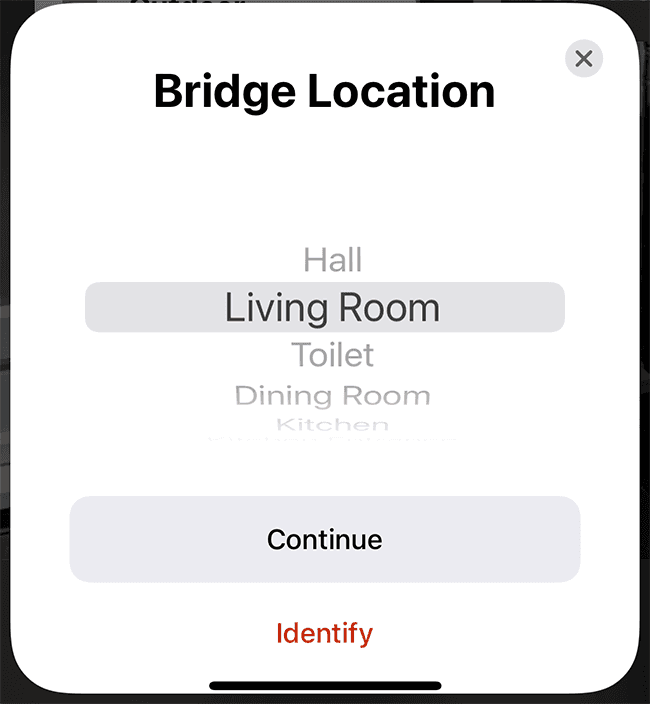 You can change the name if you wish, but all you need to do here is tap 'Continue'.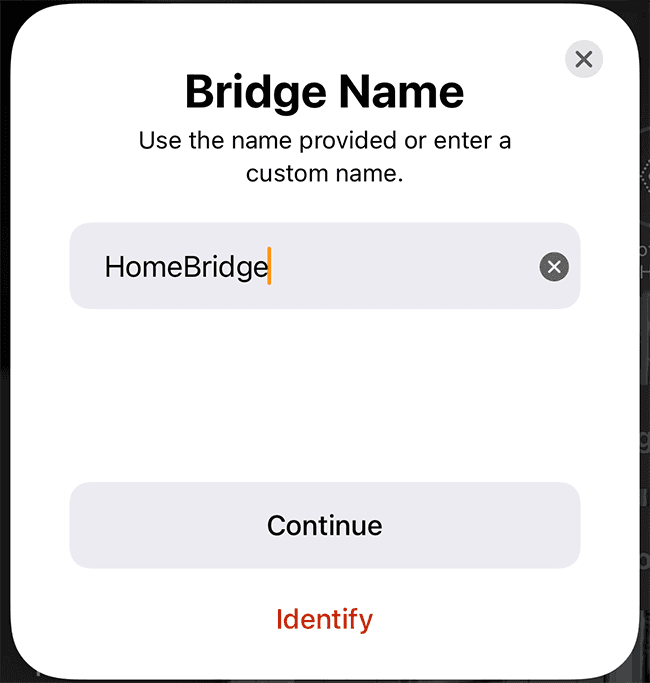 When completed, you will see a message confirming that Homebridge has been added to your home. Tap 'Continue'.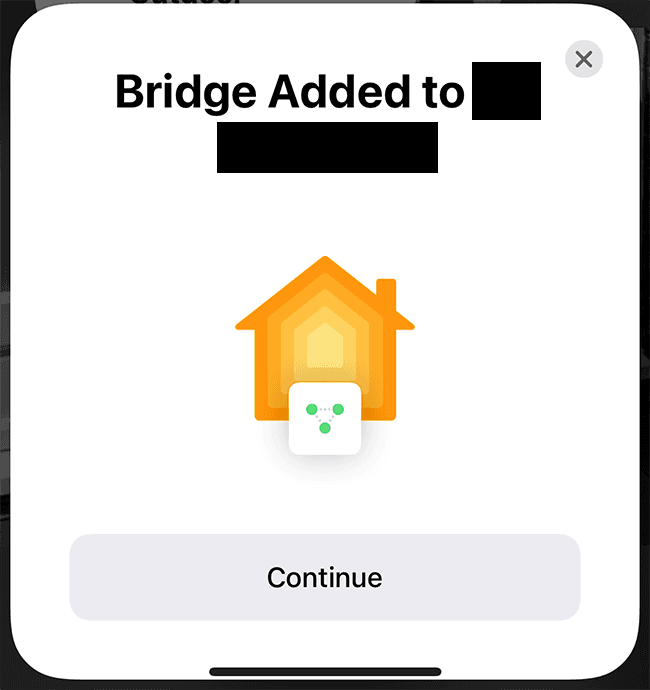 If you had already added any plugins and accessories, it will also ask you to link them to rooms and confirm their names.
As you add plugins and accessories to your Homebridge setup, they will show in the Home app. Sometimes you will need to follow the 'Add Accessory' approach again, but this is rare, and I've only seen it with TV's.