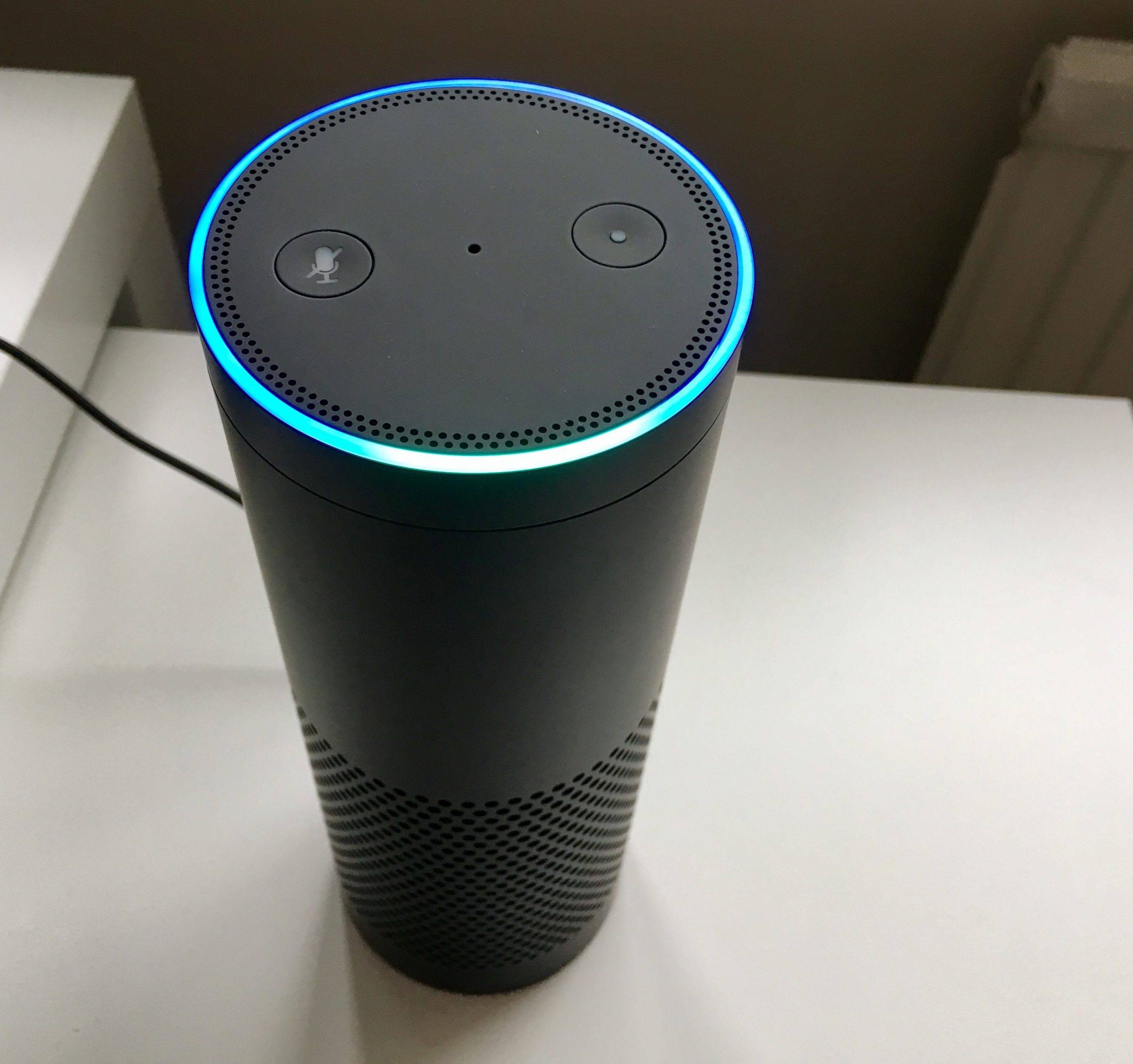 Like many of you, I'd always wanted to try the Amazon Echo, but I wasn't going to shell out £149 for one. However, on Amazon Prime Day, I bagged one for £79. My intention being to sell it if I thought it was rubbish. Not to spoil the outcome of this review, but I still have it and in fact bought two because I found it so useful.
What is Amazon Echo?
In simple terms, Amazon Echo is a Bluetooth and Wi-Fi connected speaker that allows you to use Alexa, Amazon's Digital Assistant and other linked devices & services with your voice.
What can Alexa do for you?
Alexa does a lot, so it's difficult to list them all, so I'll summarise some of the main ones. Alexa allows you to do the below, just by you talking to it:
Listen to music through the speaker via Amazon Prime, Spotify or TuneIn.
Play audio books.
Play live radio from over 100,000 radio stations.
Control your smart home (Heating, Lighting, Cooker, Smart Plugs etc).
Listen to news.
Check the weather.
Check what the traffic is like (based on a route which is pre-entered).
Ask questions (eg. How many teaspoons in a tablespoon?)
Set timers and alarms.
Manage your shopping and to do lists.
Manage your calendar.
Get help in the kitchen with step-by-step recipes.
Have fun with Jokes, Flip a coin, roll the dice, pick a card etc.
Order items from Amazon.
Keep track of your favourite sports teams.
Get fit by doing Alexa's 7 minute workout.
Works as a bluetooth speaker.
You can extend this even more by using services such as IFTTT (If This, Then That) and by adding Alexa Skills which are developed by third parties. Domino's have a skill, which allows you to order a pizza, Uber have a skill that lets you book a car and there are many others to search through and add, far too many to list.
How does Amazon Echo and Alexa work?
The Echo is always listening and activates with the Trigger word/name. By default this is Alexa, but can be changed to Echo, Amazon or Computer, which could be useful if a family member or pet is called Alexa. I like Alexa, so left it as the default.
Out of the box, when you say Alexa, the lights around the top rim activate and you say your command or ask your question. Within the Alexa app or website you can set the Echo to give a tone at the start and/or end of each request. Personally, I like it at the start only, because this make using Alexa from another room easier as you hear the feedback tones.
You can also view your recent commands via the app and I find this useful to submit feedback for those occasions when Alexa doesn't quite understand you.  It's fairly rare, I find approximately 1 out of 30 requests is misunderstood and the wrong song will play.  Far from enough to bother me.
How to setup Amazon Echo
Setting up the Echo is easy, just follow the below:
Plug it in, wait a few minutes for it to boot.
Download and install the Alexa mobile app from https://alexa.amazon.com
Open the app, select 'settings', then 'setup a new device'.
Follow the instructions within the app, it only takes a few minutes.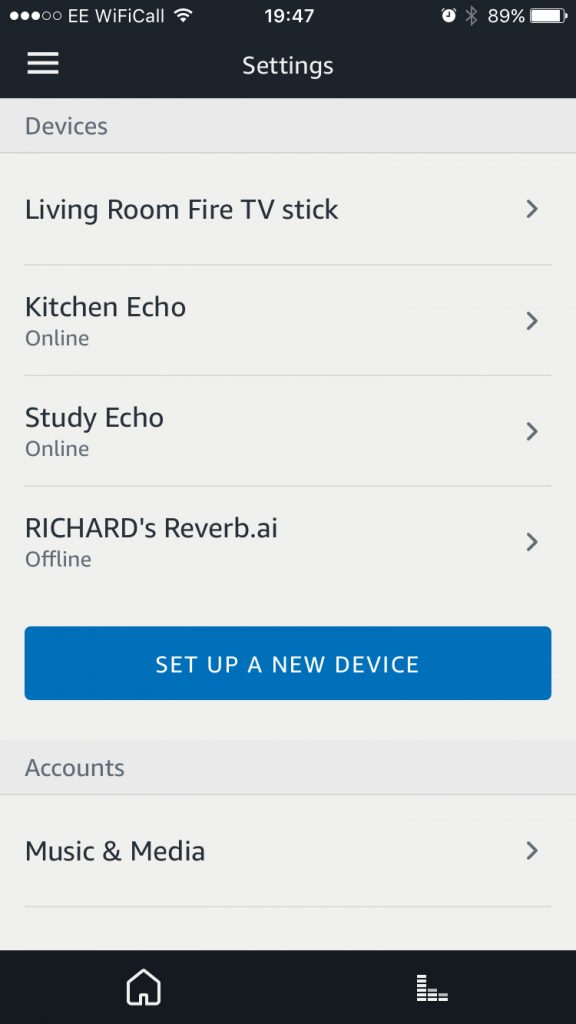 Some Alexa commands to get you started
Say Alexa, followed by any of the below:
Help.
Good morning.
Goodnight.
What time is it?
What's in the news?
What's the weather like?
What's the weather like in [city name]?
Mute.
Unmute.
Stop.
Shut up.
Volume to [0-10].
Turn up the volume.
Turn down the volume.
Play music.
Play music by [artist name].
Play [genre] music.
Play the song that goes like [song lyrics].
Play.
Read [kindle book name].
Next.
Set timer for [time in minutes / hours].
Countdown [time in minutes / hours].
I'll put together a more comprehensive list and some Easter Eggs soon.
Overall thoughts
I love Alexa and wouldn't be without the Echo. The sound quality from the built-in speaker is fantastic. I find it a lot more accurate than Siri, much more convenient and I'm constantly playing music through it and learning new things every day with some if the available skills. Since writing this article, Amazon have released a new version of the Echo, which is more compact and sounds equally as good.
Other Echo devices to be aware of
Amazon are constantly adding to the Echo family, so please also look at the below devices, as the different versions may be more suitable for you, or in different areas of your home and/or office.
Echo Dot (4th generation)
The Echo Dot is a smaller device, but it still sounds great. These are easier to add to your home as they take up much less space. For example, I have these in my living room, and some bedrooms.
Echo Dot with Clock (4th generation)
The Echo Dot with Clock, is just like the Echo Dot, but with a clock.  This makes it idea for the bedroom, and to use as an alarm clock.  Beware though, if your Echo loses it's internet connectivity, the alarm will not go off, unless connectivity is restored.
Echo Studio
The Echo Studio takes the audio quality up a level, or two.  The sound quality is great, and suitable for bigger areas of the home, or places where you want to feel the music more.
Echo Show 8
The biggest difference with the Echo Show 8 (there is also a the smaller Echo Show 5, which is the same, but it has a smaller screen) is the addition of the screen.  The screen is great for viewing Amazon Prime videos (Netflix is coming soon too, I believe), displaying song lyrics and for other activities such as cooking, where it's useful to see the instructions, as well as hear them.  This natuarally makes it a good fit for the kitchen.