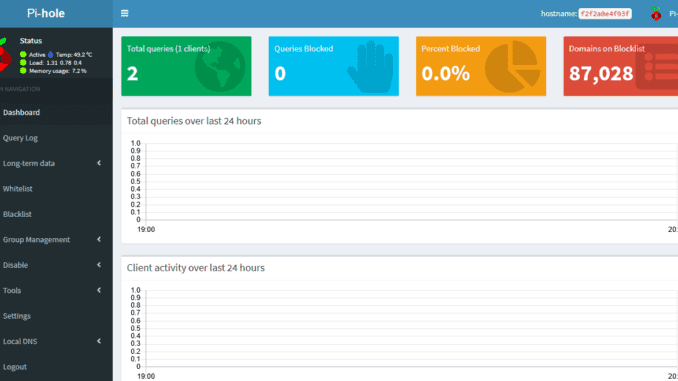 If you're reading this article, I'm presuming that you know what Pi-hole is, and have a Raspberry Pi setup with Docker installed.
Pi-hole features and benefits
I think the main reasons most people will install Pi-hole is to block ads, increase privacy, and for added security, but here's a list of features an benefits, if setup correct and maintained:
Block ads on your devices (e.g. ads on web pages, in apps, video ads on YouTube, ITV player, even on your TV, etc).
Help to remain secure by preventing malware and phishing attempts.
Block scam websites.
Improve privacy.
Prevent tracking.
Install Docker Compose
To check if you have Docker Compose installed, run the below command in a terminal window:
docker-compose
If you see the below response, run the below command to install Docker Compose:

sudo apt-get -y install docker-compose
Create a Pi-hole Docker Compose Manifest
Create and navigate to a new folder using the below commands in a terminal window:
mkdir /home/pi/pi-hole
cd /home/pi/pi-hole

Create a new file using the below command:
nano docker-compose.yml

Update the below with your password, and then paste it into the new file you created:
version: "3"

# More info at https://github.com/pi-hole/docker-pi-hole/ and https://docs.pi-hole.net/
services:
  pihole:
    container_name: pihole
    image: pihole/pihole:latest
    ports:
      - "53:53/tcp"
      - "53:53/udp"
      - "67:67/udp"
      - "80:80/tcp"
      - "443:443/tcp"
    environment:
      TZ: 'Europe/London'
      WEBPASSWORD: 'EnterYourSecurePasswordHere'
    # Volumes store your data between container upgrades
    volumes:
      - './etc-pihole/:/etc/pihole/'
      - './etc-dnsmasq.d/:/etc/dnsmasq.d/'
    # Recommended but not required (DHCP needs NET_ADMIN)
    #   https://github.com/pi-hole/docker-pi-hole#note-on-capabilities
    cap_add:
      - NET_ADMIN
    restart: unless-stopped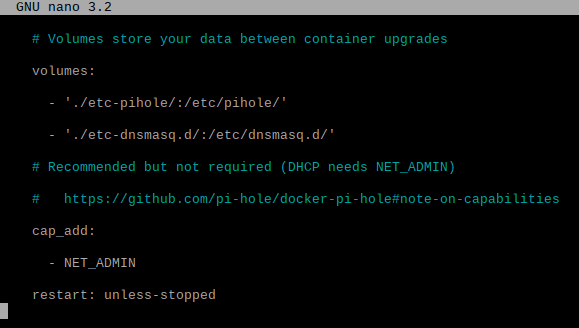 Press CTRL + X to close the editor

When prompted about saving the changes, press Y for Yes.

Press enter, without changing the file name.

You will return to the terminal window after the updates are saved.
Installing Pi-hole in a Docker container
In the same folder as your newly created docker-compose.yml file, as detailed above, run the below command to create a Pi-hole Docker container:
docker-compose up -d
-d is used to set the container to run as a background process.
You'll see it start to download the files and install them, please be patient.
When you see the below, the Pi-hole Docker containter is installed.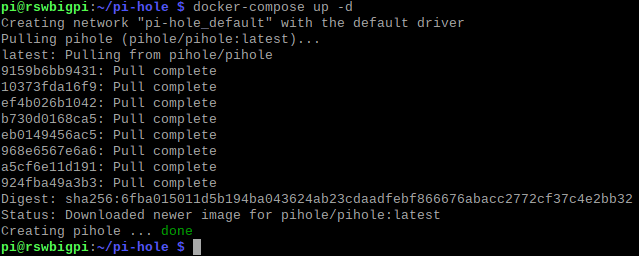 View your Pi-hole Docker container
You can view your containers by running the below command:
docker ps
If you don't see your containter, try appending an -a to show all containers, even those not running.
docker ps -a

If everything is running, you can now start using Pi-hole by browsing the admin portal:
http://servername/admin
You will need to use the password that you saved in the docker-compose.yml above, when authenticating with Pi-hole.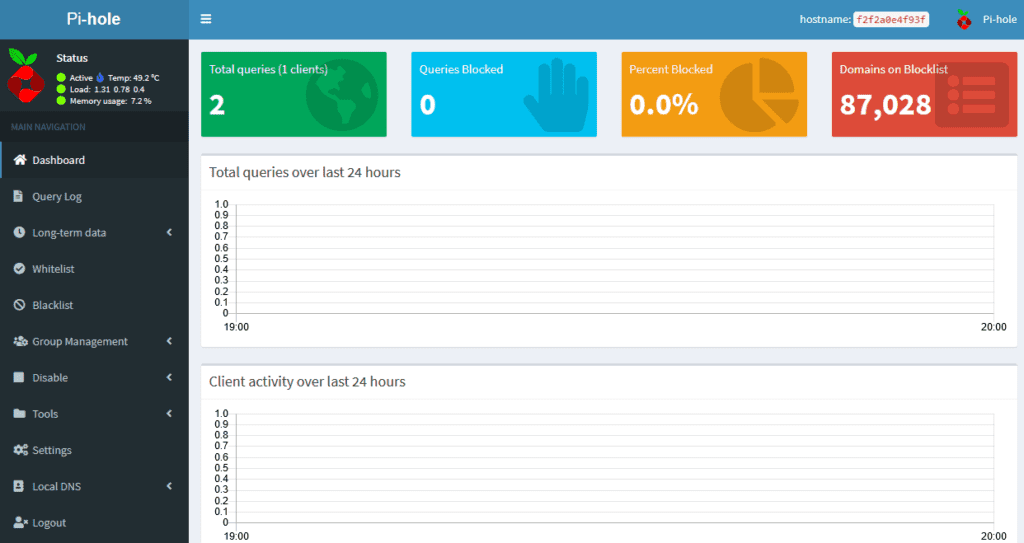 When you've configured it, don't forget to set your server up as the DNS server, and consider setting it as a DHCP server too. You could also keep your DHCP server, and setup Pi-hole on two Raspberry Pi's, and set them both as DNS servers, to give you some redundancy.