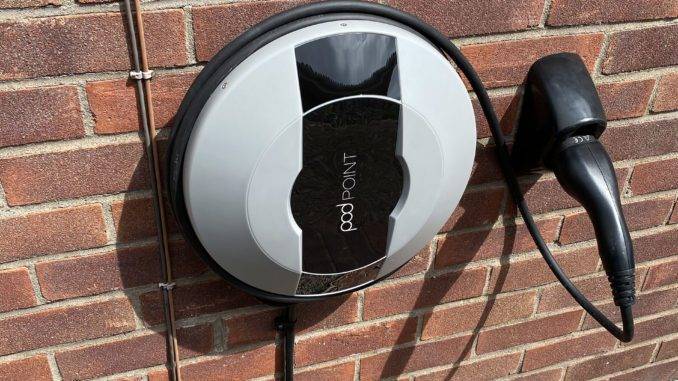 I've decided to do my bit for the environment, and my wallet, and make the move to an EV (Electric Vehicle), and I thought I'd share my experiences with you, as I go through the transition. I've opted for a Skoda Enyaq iV, and their recommended home charger is Pod Point. Now there are many other options, but I'm going with the recommendation, so there can be no push back if anything was to go wrong from a charging perspective.
Placing the order
At the time of writing this article, a £350 grant from the Office for Low Emission Vehicles (OLEV) was available to help with new home charger installations, if you have bought an EV. The grants could change, or be removed, but it's worth keeping them in mind, as it saves a significant amount of money. In my case I had just ordered a new EV, and proof of this is asked for when placing your order. Pod Point handled the grant application for me.
The order process is fairly simple, and took approximately 5 minutes via the Pod Point website. It's as simple as selecting what charger you want, filling in some forms, reviewing some OLEV documentation in relation the the grant, and uploading proof of purchase/order.
Grant eligability
Four days after placing my order, I received an email saying that my proof of purchase wasn't sufficient, because it didn't have the make and model on the same line in my order confirmation. I thought this was daft, as it was a Skoda branded confirmation, and the model was clearly labelled.
Anyway, Pod Point did clearly advise what was required to be elligable for the OLEV grant, and I contacted the dealership asking them to confirm my order in an email, with the order number, my name, address and the make & model of the car. Pod Point confirmed, within a few minutes, this was ok and passed my case to the scheduling department.
Self site survey
Following confirmation of the grant application, in fact as part of the same email, I was sent a link to completed a site survey. This is a really well thought out form, which asks you to take photos of the earthed water supply, earthed gas supply, fuse box, installation, driveway and also to provide cable lengths. The example images are really clear and demonstrate how your photos should look. The whole process took me about 10 minutes, and I did it via the browser on my smart phone.
Upon submitting my form, a confirmation was received on screen, but oddly, no email confirmation was received.
After 5 days of no communication, I started to wonder if my form went through. Even though it said it did on screen, it felt unusual not to have an email confirmation, so I telephoned Pod Point, at approximately 4pm, to check if it had gone through. The lady who answered the phone took my details, and passed my question to the installation team, for them to confirm if it was received or not.
The following day, at around 10:30am, I received an email advising that my survey had been received, but there were delays of a few weeks due to demand. So I thought it was just a case of waiting now, but I was in no rush, as the new car is not due to arrive for some time, so it was no big issue for me.
Installation booked
Within an hour of the email confirming receipt of my site survey, and advising of delays, I received a telephone call to schedule the installation. They advised they don't like to do in installs more than two weeks before the ETA of the car, which I gave as 1 September 2021, so we agreed on 16 August 2021 for the install to be done.
If you're a key worker, Pod Point will look to prioritise your installation, so it would be worth mentioning that to them when you're scheduling you installation.
Installation process
The installation has now been completed, and they've done a good job. The two installers were very friendly and happy to answer all of my questions. The unit is much smaller than I expected (for the most part). I thought it would be much thicker.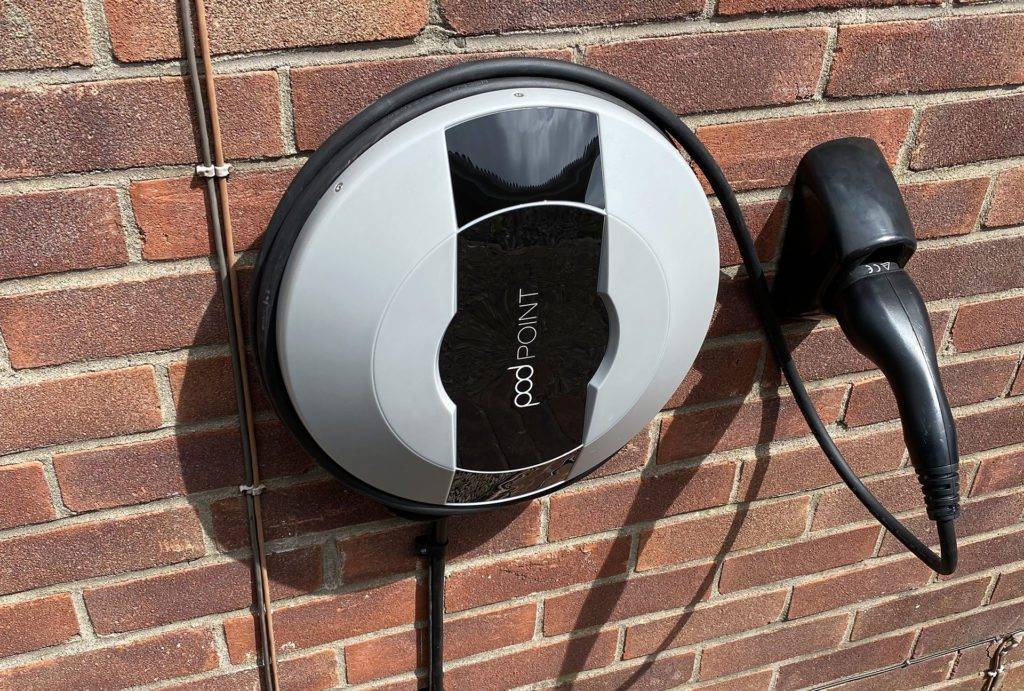 The only one small issue was that I have a looped power supply, which essentially means my power comes in, and loops out to another property, and this is apparently quite common, especially in older properties. So Western Power will have to come and change this for me. I've been advised that Pod Point will take care of this for me though, and it will be done for free. For the mean time though, the charge rate will be limited to around 3kWh.
Timeline from order to installation
| | |
| --- | --- |
| Order placed | 03 July 2021 |
| OLEV Grant eligability confirmed (after an initial problem) | 07 July 2021 |
| Self site survey completed | 07 July 2021 |
| Called to check my self site survey was received | 12 July 2021 |
| Self site survey confirmed as received | 13 July 2021 |
| Installation slot booked | 13 July 2021 |
| Installation date | 16 August 2021 |
My experience
Overall, I'd say the process has been fairly smooth, and the customer service has been good. However, the process could be made better by adding the ability to login to my Pod Point account and view the status of my order and OLEV grant application, as well as providing an email confirmation for receipt of the site survey.
Based on my experience though, I would definitely recommend Pod Point. However, there are a couple of things I'd like to point out.
Things to know about
I mentioned that the unit is thinner than I expected, but the mount for the type 2 connector sticks out quite a bit, as you can see below: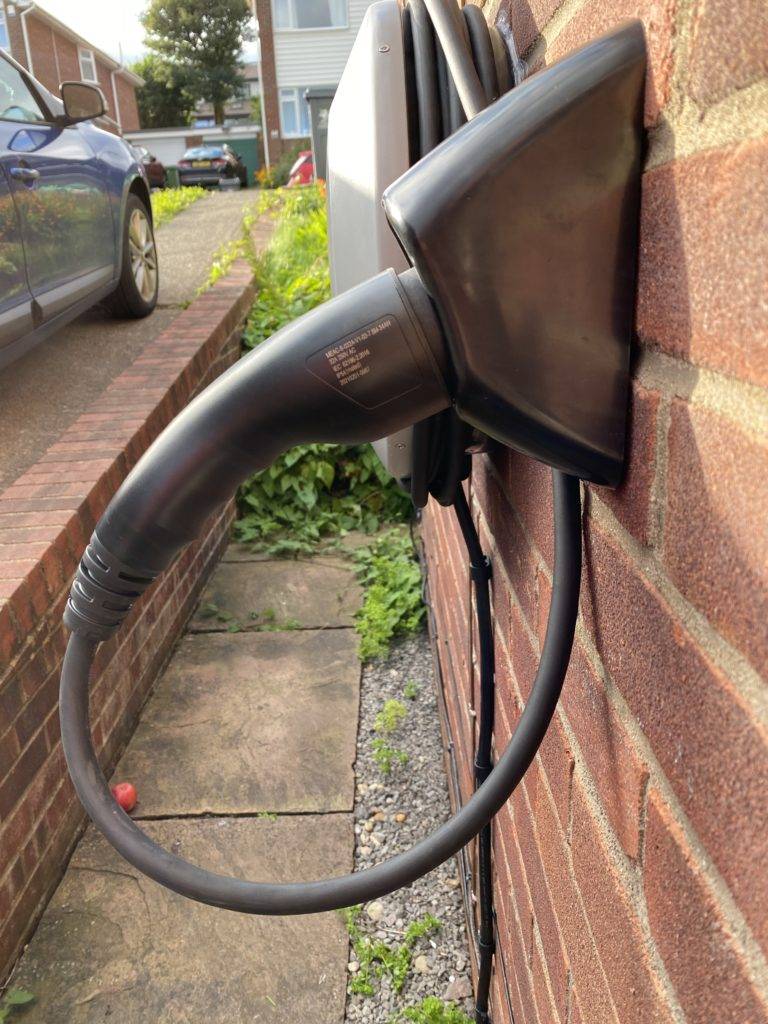 Then, if you have the tethered version and opt for the lock, it's quite tight to get the key in (fine when the key is on its own, but tight when it's on a bunch of keys):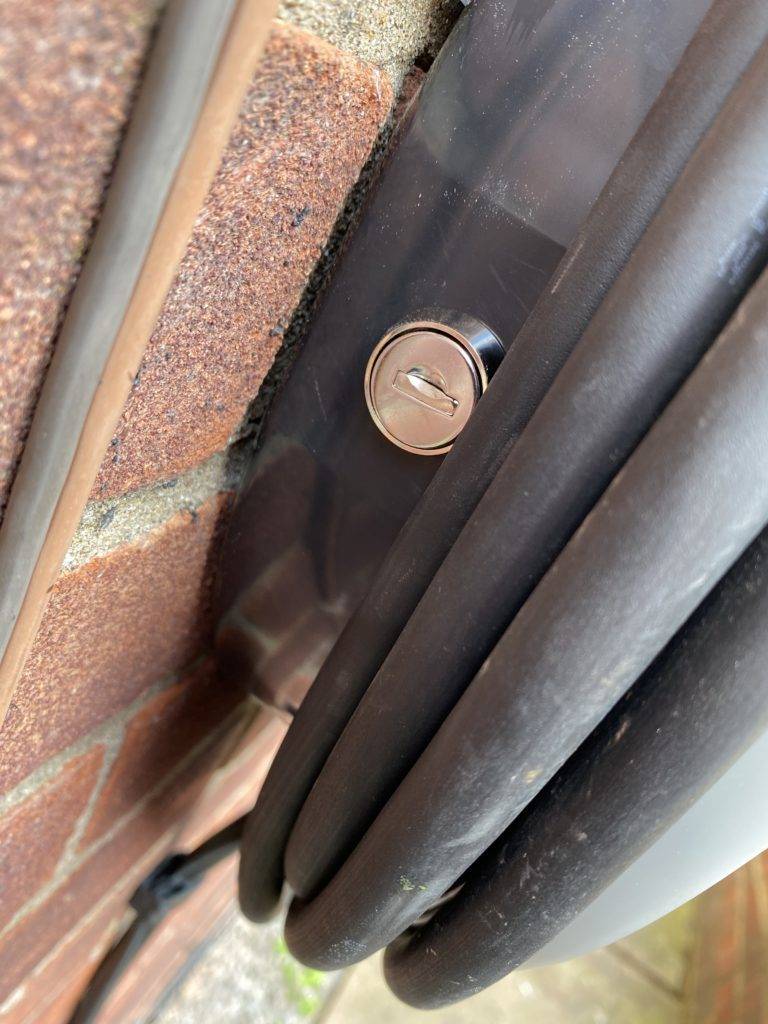 Whilst these things are annoying, I can live with them and will look at changing the type 2 holder.